Metro-North is reporting trains are on and close to schedule this morning.
That includes the Waterbury branch that was forced to substitute bus service because of mechanical problems last night.
When is a train considered late?
Metro-North: "By national industry standards, a commuter train is considered on time if it arrives within 5:59 seconds of its scheduled arrival time. So, the trains listed on the website are canceled trains or trains that arrive 6 or more minutes late."
Then, we can say the 6:40 a.m. from Stamford to GCT, running 10 minutes late, is … officially late.
To check and see if your train is on time, click here.
MTA police responded to a report of an unattended package at the Milford train station. A canine was brought in to make sure the package was safe. It was.
Not everyone is happy.
On Twitter this morning …
Joe Migs @joemig
@MetroNorth 6:36 was. Please fix your service. People shouldn't have to bring their own chair to have a seat. pic.twitter.com/upRhp7bvzR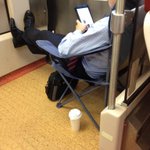 Mikey P @Imthtdude25
@MetroNorth Nothing like being stopped in Harlem for 15min…because my time doesn't matter, right?!?! #suckitpic.twitter.com/ArMsAivovx
henrik m @train_tweets
@MetroNorth can you tell me why there are no quiet car signs and 75% of the time no announcements? How are riders supposed to know?
Christian @reevesc99
@MetroNorth can you STOP putting a bar car on the the 6:51 out of New Haven! It's a waste of space. All other cars fill up with ppl standing
Shirley Caine @shirleycaine
@MetroNorth second day in a row, cars cut and one of the few cars we did get is a bar car, this is getting rediculous!