Metro-North has had its share of delays this week.
The railroad blamed "congestion due to track work" for many of the delays that ranged from 15 to 30 minutes. Sometimes longer.
And then there was the case of the "slippery rail," a combination of rain and wet, crushed leaves. The MTA has devoted an entire page to this slimy problem here.
Of course, Metro-North riders don't like these excuses. They have to get to work on time.
The result are Metro-North Twitter Rants.
Rants, not just against the railroad, but things that piss them off, including fellow passengers
Here's a collection of the best, or worst, MNTRs.

John Carew @CMYKgod
Dr. Seuss meets @MetroNorthconductor. "The first car is crowded, the second car is packed. If you really want to sit, you must walk back."

MNRR_CEO @MNRR_CEO
#catinthehat alt verses!@AvinLavin1868 undrstnd everyone has 2 eat But sushi on train? #metronorth#commuterproblemspic.twitter.com/1OoEzBM8nY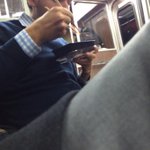 Desmond Yuen @KickDes
.@MetroNorth, another day, another insufferable delay. What's the excuse today? Can't be "wet tracks" 'cause it's bone dry. Sort it out.

Jenna Vaccariello @jennavacc
@MetroNorth thanks for telling us you're running 5-10 min late when you're already 7 min late. if we were dating I'd kick you to the curb

Stephanie Ferraiolo @stephania1216
@MetroNorth so your 6:33 conductor believes that because he has to work no one else in the#quietcar can rest. So he yells&wakes ppl. #Rude
Colin Mac @IrishCMac

Sarcastic Commuter @SrcasticCommutr
24 yr old D-bag this AM, new suit & resume folder, talking loud on cell making haircut & tanning appts got berated by regulars #metronorth
The Boop Blog @TheBoopBlog
#Metronorth #rant whats up w/ AM riders & uncharged devices? Yes I mind wires running over lap and under feet to reach plug. Charge at nite?

Laura Blagys @laurablagys
It boggles my mind that#metronorth conductors use the loud speaker to communicate with each other. Can we get a walkie talkie?

Steve @steviegriffy
@MetroNorth why does the driver/conductor not let us know we're going to be 25 mins late so that we can let our offices know?
Seth Harrison @SethEHarrison
#Commuters beware: Credit card skimmers that scan credit cards found at #MetroNorth station in#WestchesterCounty.lohud.us/18TvIQB
Scott @languagestrange
.@MetroNorth It's reached the point where even I'm sick of me railing against your inconceivably tardy service; just know that I loathe you
Kåy C?e Röz @oneweirdbitch
Why must my knees be touching the man sitting across from me?#metronorth #mta #nolegroom
Brad Trangucci @Btrangucci
@MetroNorth what's up with the 7:20am out of Fairfield Metro today??pic.twitter.com/uWFdcSyKXc
Steve McNally @sjkmcnally
Humbling that fallen leaves on tracks Can slow tons of steel and tech To a crawl @MetroNorth@steveintransit
Brad Trangucci @Btrangucci
Ann @CandidAnn
@MetroNorth Instead of raising ticket prices so often why not get the conductors to collect them consistently.
JB @anabolicapple
Just want to give a big shout out to .@MetroNorth for hitting a new high score on the service suckometer scale #moredelays
The Quiet Car @TheQuietCar

Judge Mathis @IAMJUDGEMATHIS

BrandyGomezDuplessis @BGDMakeupArtist

Sarcastic Commuter @SrcasticCommutr
Bruno Silva @wepost