UPDATE 10:25 AM
Metro-North: Hudson, Harlem and New Haven Line Service is operating on time or close to schedule into and out of Grand Central Terminal.  We apologize for any inconvenience you may have experienced as a result of the earlier incident.
UPDATE 8:43 AM
Compared to yesterday, this morning's commute on the rails isn't too bad.
Several GCT-bound trains from Greenwich are running up to 13 minutes late.
Yes, there are some delays especially on the Danbury Line because of signal problems.
Old Is The New New @FiftyandBitchy
Late is the "new new"@MetroNorth. Staying home yesterday made me forget how painful the commute is #metronorthpic.twitter.com/bmnZcUTK5I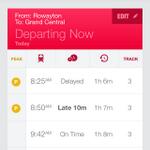 Chris Mojica @thelastmojica
Just checked the #MetroNorthservice status and it says "?" Never have been so accurate before..
UPDATE 8:15 AM
Metro-North reporting "good service" on the New Haven Line, but "due to the continued extreme winter weather, the railroad may experience weather-related problems."
Jimbuktu @Jimbuktu
Same thing happened to me this morn. Hitchhiking to work w/ a serial killer would make for a more pleasant commute.
Laura DiMugno @KeepItGreenLD
@MetroNorth Please change Danbury Branch train status to "Delays" or "Forever Screwed up." Not "Good Service," as indicated. 11 signals out.
UPDATE 7:53 AM
Another day, more delays and some complaints…
Lauren @lauren9739
I would like to thank @MetroNorthfor making me late everyday for a month & then closing the doors in my face the one morning I'm 2sec late.
Mark Evans @Etrain
Kudos to @MetroNorth for the 7:38 FF train running 10mins late. This is the first stop. Going to be 30mins behind by GCT.
Premal Shah @premalshahct
Michael Fisher @Mister_MF
Attn all #Danbury @MetroNorthriders, since they won't tell you…20 min delays by M7 due to signals being down. Sorry for "unpleasantness."
UPDATE 7:25 AM
Scattered delays are getting longer on some Metro-North trains. Check out the times …

Pete Badas @PeteBadas
#metronorth at least your lateness allowed me to catch your "7:15" on time at 7:20
Michael Fisher @Mister_MF
@MetroNorth 11 signals now out on Danbury line. Yet no announc from you. 6:53 Bethel 15 min late. Conductor pissed.
UPDATE 7:01 AM
More delays popping up including the 7:12, 7:17 and 7:21 out of Stamford to GCT.
On the Danbury line, there are also delays of up to 15 minutes because of ongoing signal problems.
UPDATE: 6;10 AM
Metro-North's New Haven Line is rolling along on a regular schedule this morning.
After yesterday's delays, cancelled trains and reduced service, the railroad … and its passengers … are hoping for a smooth ride today.
Already, there are some scattered delays including the 6:30 AM out of Stamford to Grand Central Terminal. The train is running six minutes late.
For a list of schedule, click here.
To see if your train is on time, click here.