From September 15, 2013 through February 2, 2014, The Jewish Museum in New York will present Chagall: Love, War, and Exile which, for the first time in the U.S., explores a significant but neglected period in the artist's career, from the rise of fascism in the 1930s through 1948, years spent in Paris and then in exile in New York.
Marc Chagall (1887-1985), one of the foremost modernists of the 20th century, created his unique style by drawing on elements from richly colored folk art motifs, the Russian Christian icon tradition, Cubism, and Surrealism. Beginning with the evocative paintings from his years in France, Chagall: Love, War, and Exile illuminates an artist deeply responsive to the suffering inflicted by war and to his own personal losses and concerns. Although he never abandoned a poetic sensibility, his art of the 1930s and 1940s reflects the political reality of the time. Most unexpected is the recurring appearance of the figure of the crucified Jesus as a metaphor for war and persecution. By the mid-1940s, Chagall returns to joyful, colorful compositions expressing the power of love. The exhibition includes 30 paintings and 24 works on paper, as well as selected letters, poems, photos, and ephemera.
Escaping the hardships of Soviet life following the Revolution, Chagall moved to Paris with his wife, Bella, and daughter, Ida. During this productive period, he assimilated the French artistic tradition, creating a series of portrait-like flower paintings, vibrant in color and texture.

Marc Chagall, "Time is a River without Banks," 1930–1939, oil on canvas. Collection of Kathleen Kapnick, New York. ©2013 Artists Rights Society (ARS), New York / ADAGP, Paris.
Chagall's exile from Russia also inspired work based on memories of his childhood and of the Bolshevik Revolution. He depicted a cathedral that dominated the town of Vitebsk, and drew on a remembered storehouse of symbols meaningful to both Jews and Christians, presaging the Christian imagery-in particular the Crucifixion-in work to come.
Marc Chagall, The Juggler, 1943, oil on canvas, 43 1/4 x 31 1/8 in. Private collection.
Like many Eastern European Jews who had fled to France, Chagall's world was threatened by the rise of Nazism. In 1941, with an invitation from Alfred Barr of the Museum of Modern Art, he and Bella escaped to New York City. With the onset of the war and this second exile in New York, themes of violence and disruption characterize Chagall's work.
The most prevalent image used by Chagall during World War II was of Jesus and the Crucifixion. In Chagall's canvases Jesus was often depicted as a Jew. For the artist, the crucified Jesus was a symbol for victims of persecution, and an appeal to conscience that equated the martyrdom of Jesus with the suffering of the Jewish people. While other Jewish artists depicted the Crucifixion, for Chagall it became a frequent theme.
Unlike his years in Paris, Chagall was never completely comfortable in New York City. The artist felt disconnected from the places he understood best-Russia and Paris. This feeling of alienation was compounded by a devastating personal tragedy-the sudden death of his wife, Bella, in September 1944.
Chagall soon established a new relationship with Virginia Haggard McNeil, moving with her to High Falls, New York in the mid-Hudson Valley. His work from this time often expresses a tension-between the memory of Bella and the new presence of Virginia-resulting in fraught but revealing compositions. Gradually, as the artist emerged from his sadness, and the horrors of war receded, the work from this period begins to reflect a more familiar Chagall expressed in joy-filled paintings replete with intense color and levitating figures.
Photo: Banque d'Images, ADAGP / Art Res
Marc Chagall, "Self-Portrait with Clock," 1947, oil on canvas, private collection. ©2013 Artists Rights Society (ARS), New York / ADAGP, Paris.
The show brings together significant works from major institutions and collections throughout Europe, Israel, South America, and the United States. Chagall: Love, War, and Exile is organized by Susan Tumarkin Goodman, Senior Curator at The Jewish Museum.
Exhibition Catalogue
In conjunction with the exhibition, The Jewish Museum and Yale University Press are co-publishing a 148-page catalogue by Ms. Goodman, with an essay by Kenneth E. Silver, Professor of Art History at New York University. Goodman and Silver analyze Chagall's complex iconography and phantasmagorical style, tracing the political, literary, and theological sources that inspired his art. Also included are 72 color reproductions, 27 black and white illustrations, and eleven of Chagall's rarely seen poems. The clothbound book will be available worldwide and at The Jewish Museum's Cooper Shop for $45.00.

From the Huffington Post:
Bridging the space between poetry, politics and spirituality, Chagall creates rich visual tapestries, alive with tales of love, loss, war, faith and flying fiddlers.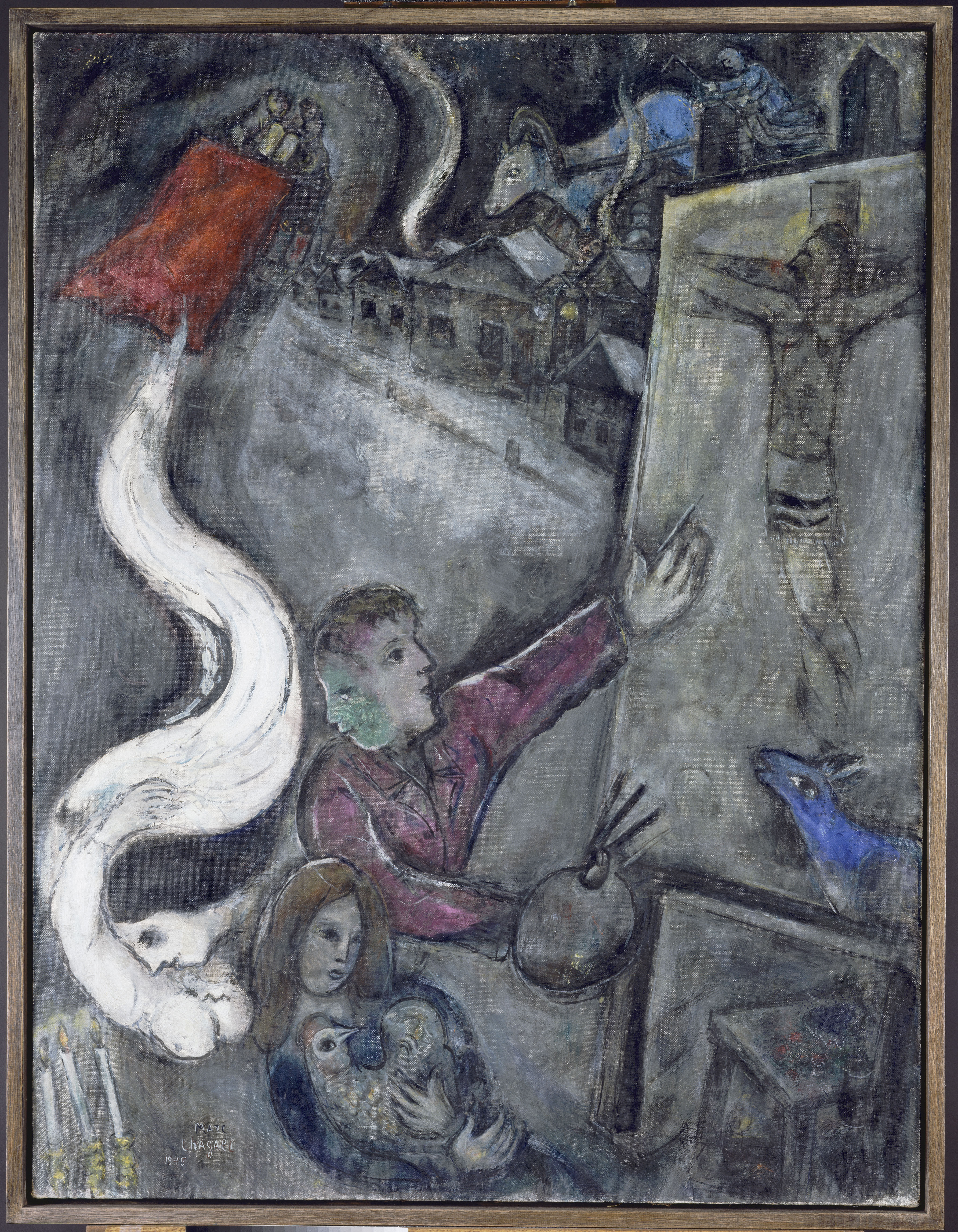 Marc Chagall, The Soul of the City, 1945, oil on canvas, 42 1/8 x 32 in. Musée National d'Art Modern Centre Georges Pompidou, Paris, gift of the artist, 1953. Art © 2013 Artists Rights Society (ARS), New York / ADAGP, Paris.

Photo: Philippe Migeat. Photo © CNAC/MNAM/Dist. RMN-Grand Palais / Art Resource, NY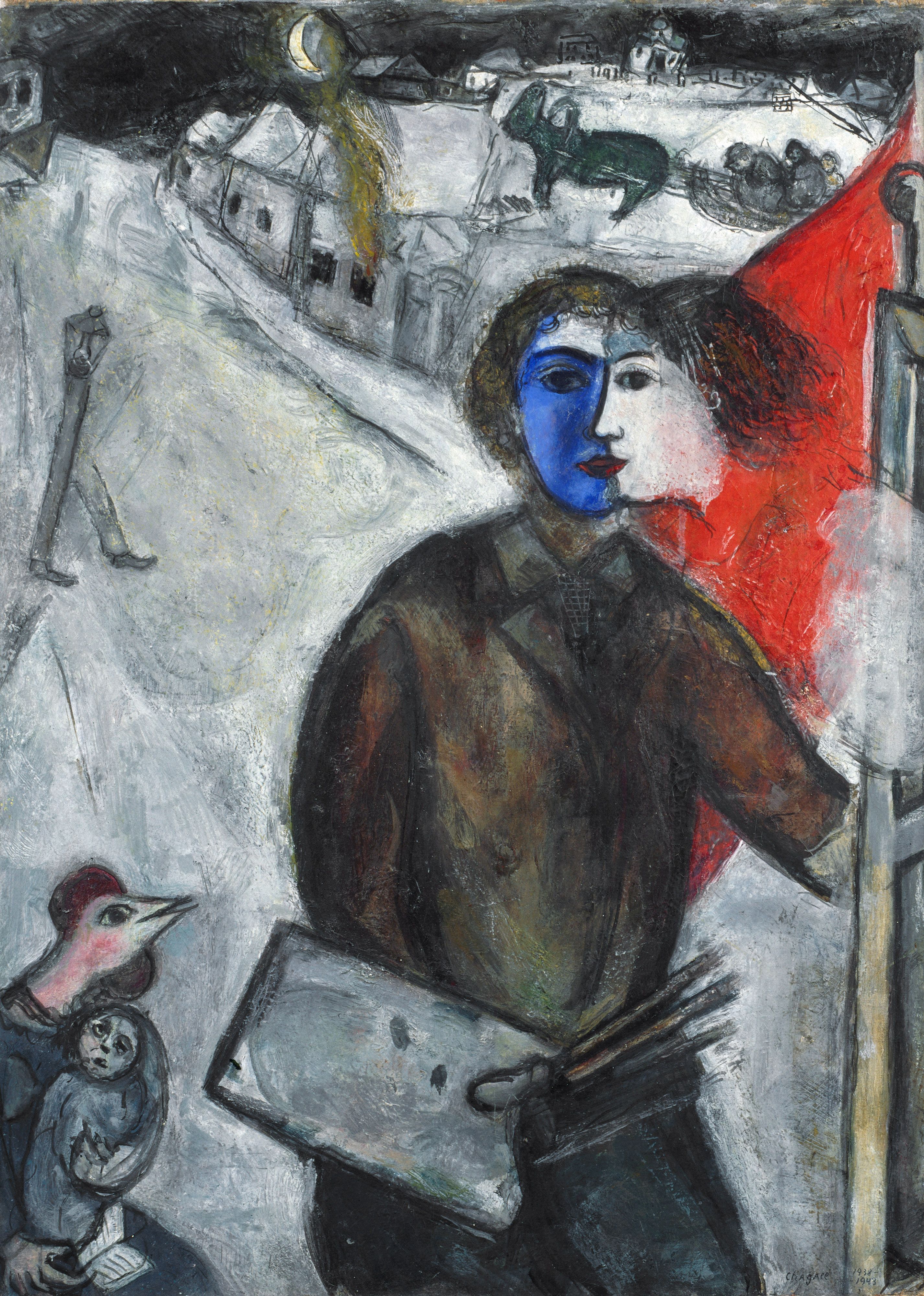 Marc Chagall, Between Darkness and Light, 1938-1943, oil on paper mounted on canvas, 39 3/8 x 28 3/4 in. Private collection. © 2013 Artists Rights Society (ARS), New York / ADAGP, Paris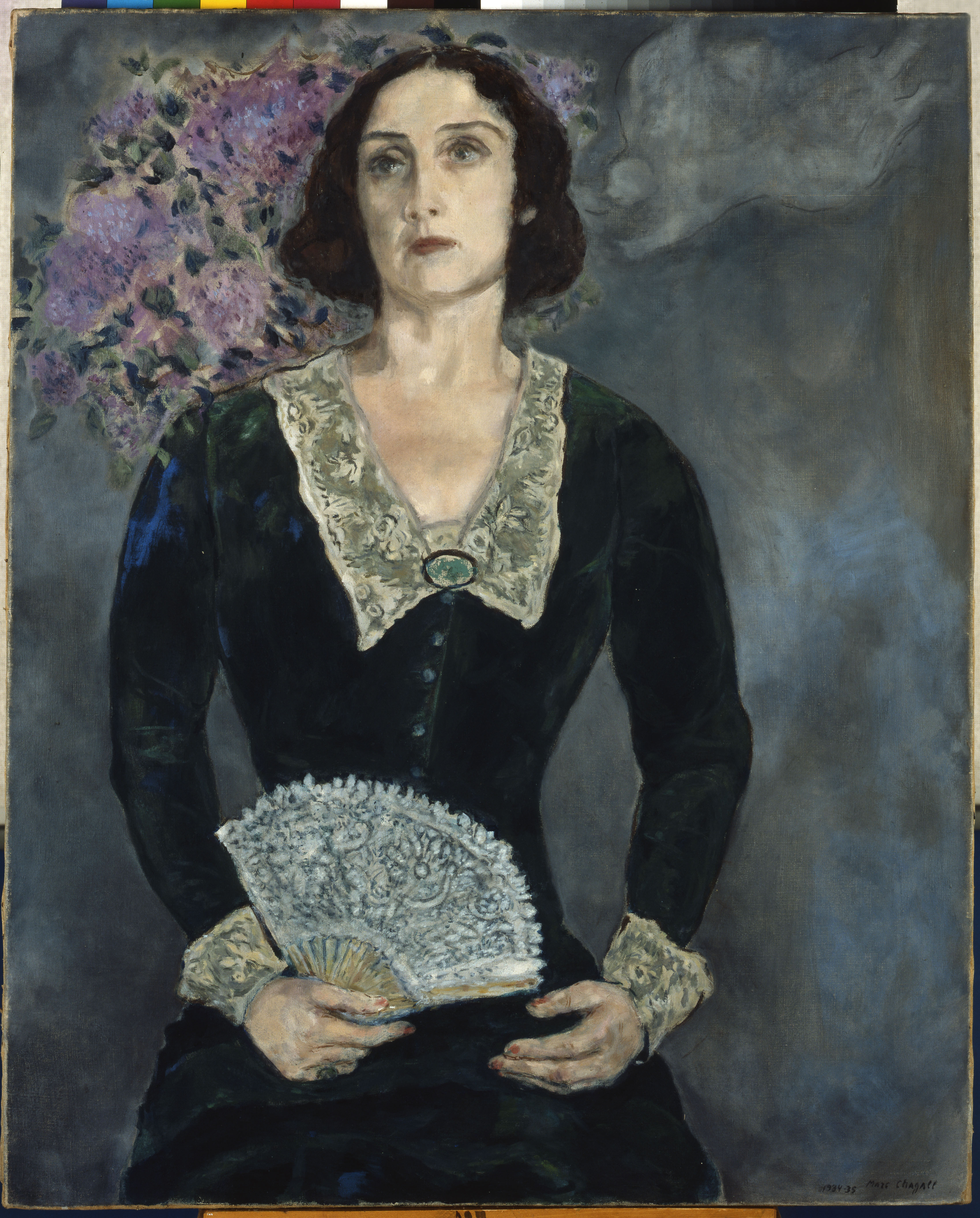 Marc Chagall, Bella in Green, 1934-1935, oil on canvas, 39 3/8 x 31 7/8 in. Stedelijk Museum, Amsterdam. © 2013 Artists Rights Society (ARS), New York / ADAGP, Paris
From the NY Times (images added):
"The Fall of the Angel"

follows several paintings of isolated men, like "Sleeping Talmudist"

and "Solitude."

Like them, it includes an observant Jewish figure — here, a man clutching a Torah scroll in the foreground — but also features a small Jesus on the cross along the right edge.

That peripheral image sets the stage for a gallery of Crucifixion paintings that are astonishingly varied. There are figures with Byzantine-style halos, as in

"Exodus" (1952-66).

"Christ in the Night" (1948) looks like a medieval woodcut or a painting by Georges Rouault.

And there is a self-portrait as Jesus, "Descent from the Cross" (1941), in which the letters "MARC CH" replace the traditional "INRI" on the cross, and an angel holds a palette and brush.

[A later version :]

Marc Chagall's 'Descent From the Cross' (1968-76)

There is even a Cubo-Futurist Jesus,

"Calvary,"

from MoMA's collection. Painted in 1912, it demonstrates that Chagall's interest in Jesus went back to his formative years in Paris, where he developed a style that merged Russian icon painting with Cubism and Fauvism. The Jesus of "Calvary" wasn't a political figure so much as a familial one. He later recalled, "I wanted to show Christ as an innocent child," and compared the figures at the base of the cross to his own parents.

In his wartime works, there is no mistaking the symbolism of Jesus as a Jewish martyr.

"White Crucifixion" (1938), not in the show but in the catalog, is typical; Jesus is ringed by burning pogroms.

In the smaller gouache "The Crucified," Chagall responds to news accounts of a battle in his Byelorussian birthplace, Vitebsk, with images of Jewish villagers nailed to crosses…
From Marc Chagall's Yellow Crucifixion :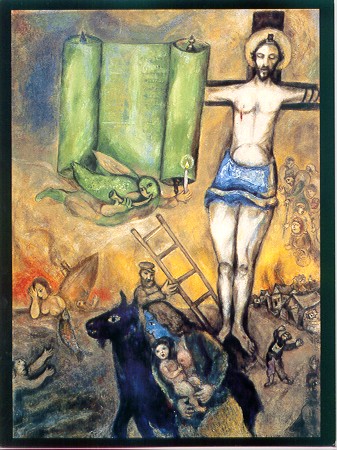 "The Yellow Crucifixion" (1943) was one of several paintings Chagall did during this period in which he attempted to express the horror of the Holocaust by using the image of the crucified Christ in combination with overtly Jewish symbols. In this way, he linked Jesus to the fate of the Jewish victims of Hitler and used the most powerful image of suffering in the Christian iconographic tradition to confront viewers with the cruelties being inflicted on Jesus's people.

In "The Yellow Crucifixion," Jesus wears the phylacteries or tefillin donned by Orthdox Jews for their morning prayers. The off-center figure of the crucified Jesus shares the central space of the picture with a large depiction of a Torah scroll. In the lower part of the picture, burning buildings and figures in postures of agony represent the Jewish victims of the Holocaust in Chagall's native eastern Europe.

Chagall's crucifixion paintings probably inspired the plot of Chaim Potok's popular novel, My Name is Asher Lev (1972), in which the principal character is a young Jewish artist grappling with the fact that the western artistic tradition is so heavily influenced by Christian imagery and that the crucifixion image is a uniquely powerful way of expressing human suffering.

Marc Chagall, Persecution, 1941, pastel, gouache and watercolor on paper.
COLLECTION HERTA AND PAUL AMIR, BEVERLY HILLS, CALIFORNIA. ©2013 ARTISTS RIGHTS SOCIETY (ARS), NEW YORK / ADAGP, PARIS.
Chagall, who was raised in a Hasidic home, had his own doubts about using Christian imagery, at various points consulting the Lubavitcher Rebbe and Israeli president Chaim Weizmann on the matter. But in the end, he kept painting Jesus, attracted to his qualities as a rebel, a martyr, and a creative spirit. In some paintings, the man on the cross is the artist himself.

Chagall described the act of painting Jesus as "an expression of the human, Jewish sadness and pain which Jesus personifies," he explained. "…Perhaps I could have painted another Jewish prophet, but after two thousand years mankind has become attached to the figure of Jesus."
Audio Guide
Produced by The Jewish Museum in association with Acoustiguide, a random access audio guide is being created for Chagall: Love, War, and Exile. Available to visitors for $5.00, the audio guide is being made possible by Bloomberg.
About The Jewish Museum
Widely admired for its exhibitions and collections that inspire people of all backgrounds, The Jewish Museum is one of the world's preeminent institutions devoted to exploring art and Jewish culture from ancient to contemporary. Located at Fifth Avenue and 92nd Street, The Jewish Museum organizes a diverse schedule of internationally acclaimed and award-winning temporary exhibitions as well as dynamic and engaging programs for families, adults, and school groups. The Museum was established in 1904, when Judge Mayer Sulzberger donated 26 ceremonial art objects to The Jewish Theological Seminary of America as the core of a museum collection. Today, the Museum maintains a collection of 25,000 objects – paintings, sculpture, works on paper, photographs, archaeological artifacts, ritual objects, and broadcast media.
The Jewish Museum is located at 1109 Fifth Avenue at 92nd Street, New York City. Museum hours are Saturday, Sunday, Monday, and Tuesday, 11am to 5:45pm; Thursday, 11am to 8pm; and Friday, 11am to 4pm. Museum admission is $12.00 for adults, $10.00 for senior citizens, $7.50 for students, free for visitors 18 and under and Jewish Museum members. Admission is Pay What You Wish on Thursdays from 5pm to 8pm and free on Saturdays. For information on The Jewish Museum, the public may call 212.423.3200 or visit the website at TheJewishMuseum.org.